In this article, I will be sharing two nutritious slow cooked recipes that will blow your taste buds away. These are heathy recipes that can be taken for breakfast, lunch or dinner.
Yes, its been quite a while I posted any recipes on here, and as a matter of fact, this will be the first recipes I will be putting on here; so, let's rock this recipe.
Slow Cooked Recipes You Might Want To Try Out
Slow Cooked Italian Pork Chops 
On days when I do not feel like cooking, I let my crock-pot cook for me. A favorite crock pot meal my family loves is slow cooked Italian pork chops. They come out so tender, full of flavor and juicy cooking them this way. 

Ingredients Needed
4-6 Pork Chops (any kind)
Large Bottle of Italian Dressing
Bag of Frozen Bell Pepper Blend
¼ Cup of Diced Red Onions 
Tablespoons of Dried Parsley 
Pinch of Salt & Pepper
Directions 

Place pork chops, bell peppers, onions, parsley and salt and pepper into the crock-pot and pour the bottle of Italian dressing over all of it.
Turn the crock-pot on low to medium heat and allow it to slow cook in the crock-pot for 6-8 hours. 

After, serve the tender, juicy Italian flavored pork chops up with your favorite side dish. We love serving ours up with a side of angel hair pasta coated in fresh herbs and parmesan cheese.
You can eat your pork chops with whatever side dish you prefer. Usually an Italian styled side dish taste best with these pork chops. 
Slow Cooked Peaches and Cream Oatmeal
​Peaches and cream oatmeal is a healthy hearty breakfast you can make right in the slow cooker overnight.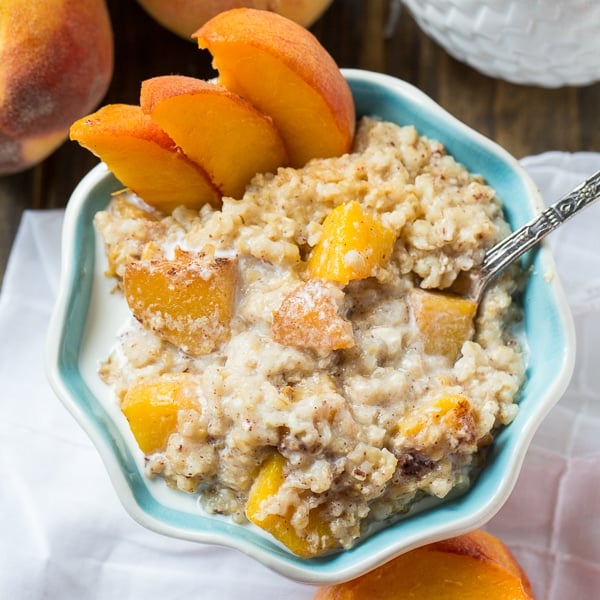 Ingredients Needed
The ingredients necessary to make this recipe are
four cups of rolled oats,
six cups of any kind of milk or cream,
teaspoon of salt,
tablespoon of ground cinnamon,
forth teaspoon of nutmeg,
one cup of honey or maple syrup, and
two dozen slices of fresh or canned pitted peaches.
All of the ingredients you can find at your local grocery or whole food stores. 
Directions 
Once you have all the ingredients on hand, it is time to carefully measure them out and add them into your slow cooker.
Next, combine all the ingredients together and turn the slow cooker on low heat eight hours before bedtime.
If you tend to sleep longer than eight hours, turning the slow cooker on a keep warm setting will work just fine for this recipe if the slow cooker you own contains this setting.
By morning, you will have a flavorful sweet filling, yet nourishing breakfast that eat up. 

If you find that the oatmeal is a bit dry or too thick in consistency when you wake up, adding a small bit of water or milk to the dish will help loosen it up a bit.
If you find your slow cooker has left your dish a bit running, adding a forth cup of instant oats to the oatmeal will help thicken it up.
Usually, neither of these things occurs with slow cooked oatmeal, but if they do occur, they are easy to fix quickly. 
​
Once you are ready to eat your peaches and cream oatmeal, go ahead, scoop the desired amount into your bowl, and eat as is or top with the toppings of your choice for more flavoring such as spices, salts, sweeteners, milks, fruits or creams.