Paris is a very beautiful and classic city and the capital of France. Talk of exotic fashion, classic beauty and history; and France have got it.
And we mustn't forget food recipes; as they have some of the best in the world!
Their choice of food is recognized across the entire globe.
France is well known for its plethora of delicious food recipes. There is no mincing words about this. I am yet to see a country whose food recipes can be compared to that of France.
French food is globally known for its flavor and their cuisine is awesome. I am not just saying this, but have been opportune to have a piece of some of their unique food recipes.
And then I feel in love with France and I just wished I didn't have to leave the country.
Food in France has become such an integral part of French culture that it was added to UNESCO's world list of intangible cultural heritage in 2010.
From wine to cheese, the French people have always delivered in every aspect, so when I say their cuisine is mind blowing, you should believe me.
I have complied 10 food recipes from France worth trying out and I know you enjoy them when you do try them out.
Let's get to it already.
CASSOULENT
Cassoulet is a rich and delicious dish that consist of white beans stew and meat, often most chef use pork, goose, duck sausages or even mutton.
Originated from Southern France, the name of this dish comes from cassole that is the pot it is traditionally baked in. The pot is usually shaped into a cone so as to give the huge amount of tasty crust.
For most people that love meat this dish is recommended for you and am sure you will like it.
INGREDIENTS
140g pork
rind
140g smoked streaky bacon
300g garlic sausage
600g dried haricot bean, soaked overnight in 3 times their volume of water
1 celery
stick
1 small onion
, preferably a white skinned mild one
1 large carrot
6 garlic cloves
2 ripe plum tomatoes
25g goose fat or 2 tablespoon olive oil
1 bouquet garni
8 pinches of sea salt
2 pinches of freshly ground black pepper
1 clove, lightly crushed
2 tsp lemon juice
To finish
4 confit ducks
legs
60g goose fat or 2 tablespoon olive oil
40g dried breadcrumb
1 garlic clove, finely chopped
a handful of fresh flat leaf parsley, coarsely chopped
PROCEDURE FOR MAKING CASSOULENT
Cutting the meat isn't quite difficult, all you need do is roll the pork in a Swiss roll, then use a sharp knife to cut the roll across into tiny slices, now chop the bacon into small pieces, cut the garlic sausage also.
Soak the beans, afterwards drain the water, in a saucepan, add the pork you sliced and lardons, and then cover it with fresh cold water. Allow for 20 minutes and drain the beans, lardons and rind into a colander, then remove the cooking water.
Chop onion, carrot and celery, also peel the garlic but don't slice them yet. Now cut the tomato into eight wedges, preheat the oven to 120 C (mark 2, if you are using cooking gas).
In a casserole pan, heat olive oil over a low heat and add carrot, onions, garlic, and celery and allow for 5 minutes. Now add the bouquet garni, tomatoes, allow to cook for 5 minutes. Then add the sausage, pork rind, bans and lardons and also pour 1.2 liters' of water into it. As soon as it starts boiling, skim off the scum, and add salt, clove, pepper and lemon juice.
Now, move the casserole to the oven, uncover, and cook for 2 hours. Stir it every hour, when it's completed 2 hours, the beans will be soft and creamy, then cook for another 2 hours.
Now take out the casserole from the oven, put the duck legs into the beans and sprinkle olive oil all over with garlic and breadcrumbs. Take back to the oven and cook for another 2 hours. Serve in bowl with chopped parsley sprinkled all over.
RATATOUILLE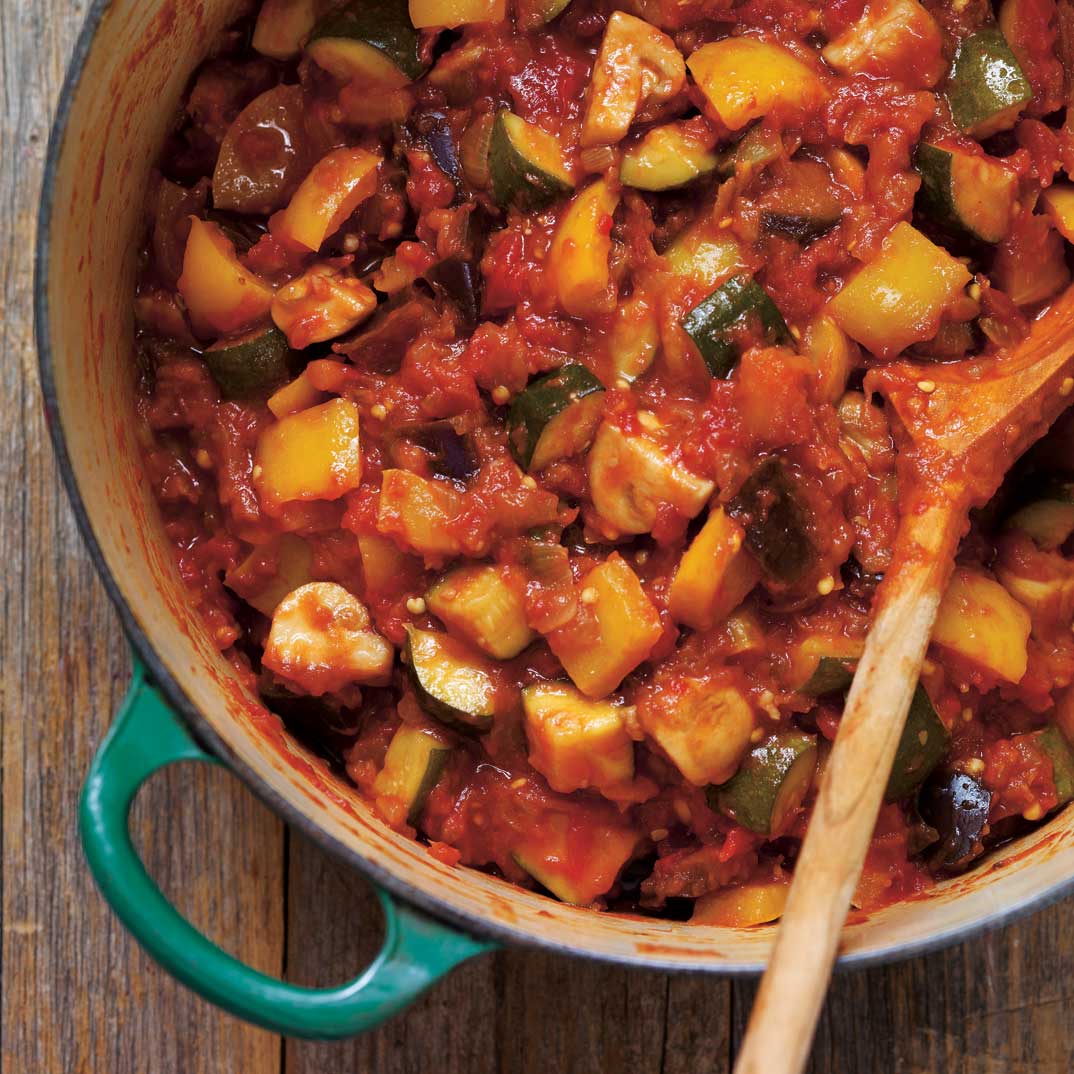 Hailing from southeast French region of Provence, this dish is globally recognized for its unique taste.
This French dish is a stewed vegetable that is served as a meal, side dish or stuffing for another dish like omelettes and crepes.
There is always a debate about the way Ratatouille is being prepared among chefs, most of them do not agree with sautéing the vegetables together, and some say the vegetables should be cooked separately.
INGREDIENTS
2 large eggplants
2 medium yellow onions
3 medium bell peppers
6 to 8 medium zucchini
4 large tomatoes
1 1/2 to 2 tablespoons olive oil
3 to 4 cloves garlic
1 bay leaf
3 to 4 sprigs thyme
1/4 cup loosely packed basil, sliced into ribbons
Extra basil for garnishing
Salt and pepper
PROCEDURE FOR MAKING RATATOUILLE
Firstly, peel the eggplants and chop them into cubes, then move them to a strainer set and toss with a spoon of salt. Keep the eggplant aside.
Slice the onion and chop the pepper, tomatoes and zucchinis into pieces. Add the garlic, since the vegetable will be cooked in batches, keep in a separate bowl.
In a large pot, add a teaspoon of olive oil, add onions, and a pinch of salt. Mix until onion is soft. Now add pepper and continue cooking until pepper is soft too, move the onions and pepper into a bowl.
In another pot, add a tablespoon of olive oil, a pinch of salt, zucchini, and allow the zucchini to soften for 5 minute. Pour into the bowl with onions and pepper.
Rinse the eggplant and squeeze into cubes. Warm oil in a pan and sauté the eggplant until its soft, pour into the bowl of vegetable.
If you notice a glaze that is beginning to turn from brown to black, turn down the heat and pour ¼ cup of water or wine into the pan. Then pour the deglazing liquid into the same with vegetables. Warm a spoon of olive oil again and sauté the garlic for 1 minute, then add tomatoes, thyme and bay leaf. As the tomatoes is bubbling, scrape the glaze off the bottom of the pan.
Now pour all the vegetable back into the pan and mix properly, then turn down the heat. Simmer for 20 minute or 1 hour. Now remove the bay leaf and the thyme, stir in the basil before taking the ratatouille off the heat, sprinkle the basil more and add little olive oil as you serve. You can refrigerate leftovers for a week or even months.
PAELLA
This dish is internationally known. Some consider it as a national dish for Spain, while others think it's a Valencia dish from where it actually originated. This dish mainly consists of rice and some ingredients that enriches the dish.
INGREDIENTS
Olive Oil for cooking
1 Spanish Onion finely chopped
3 Cloves Garlic finely chopped
5 tablespoon sea salt
6 small Squid Tubes sliced
5 teaspoon Chilli Flake
5 teaspoon smoky hot Paprika
3 teaspoons chopped Parsley
3 teaspoons Squid Ink
1 teaspoon Tomato Paste
250 g Calasparra paella rice
750 ml chicken stock
PROCEDURE FOR MAKING PAELLA
The first thing you need to do is heat a paella pan with olive oil and add chopped onion and garlic, allow to cook for 5 minutes.
Now add squid and stir for 3 minutes, then add chilli flaxes, half of parsley, paprika, squid ink and tomato paste then stir properly and add the rice and chicken stock, allow to cook for 20 minutes.
Shake the pan but do not stir the rice, now add the extra parsley in a bowl and serve.
SOUPE À L'OIGNON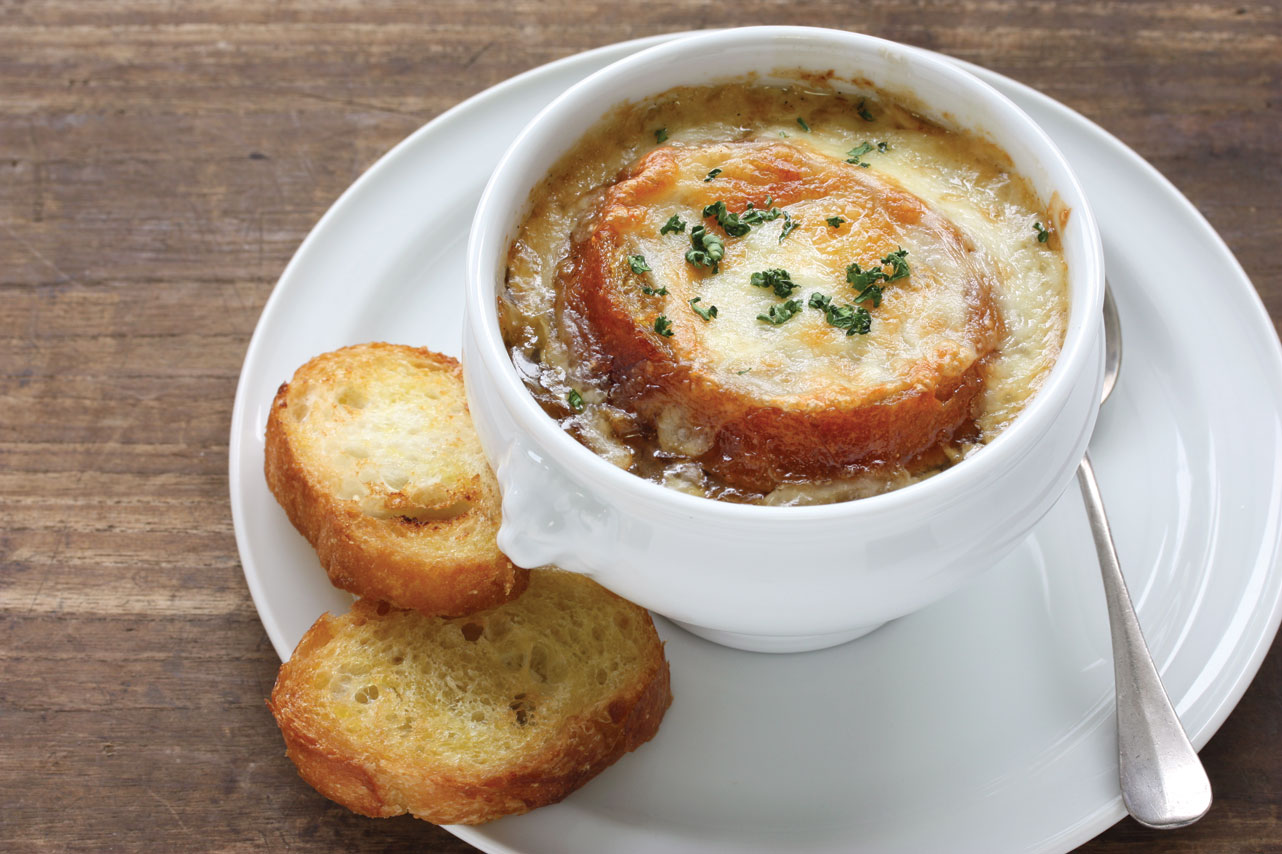 This traditional French soup is made of onions and beef stock. It is usually served with croutons and also melted cheese.
The soup originated from Roma and it was a poor dish as at then since it was in the 18th century.
From the sprinkling of onions that is actually where this awesome taste is from.
The liquid used in preparing this dish is meat stock even though little water is added, and it can be thickened with milk, eggs or flour.
INGREDIENTS
700g onions
40g butter
2 tbsp flour
75 litres beef stock
1 glass of white wine
Baguette to toast
Gruyère or Emmenthal
PROCEDURE FOR MAKING SOUPE À L'OIGNON
First step, peel and slice the 700g onions, allow then to soften in a 40g butter and also a little olive oil on a low medium heat. Keep stirring until when it is soft, sweet and sticky.
Now add a pinch of sugar so that the onions can caramelise. Add a couple of flour and cook for 4 minutes, then add 1.75 litres of boiling beef stock and also a glass of white wine. Then cover partially and allow to simmer for 45 minutes.
In a bowl, place the slices of toasted baguette and cover slightly with Gruyère or Emmenthal
. Allow to bake in the oven for 20 minutes until the bread is toasted and also the cheese has melted.
Until the onions is soften to crush that you can add the flour and stock.
CREPE SUZETTE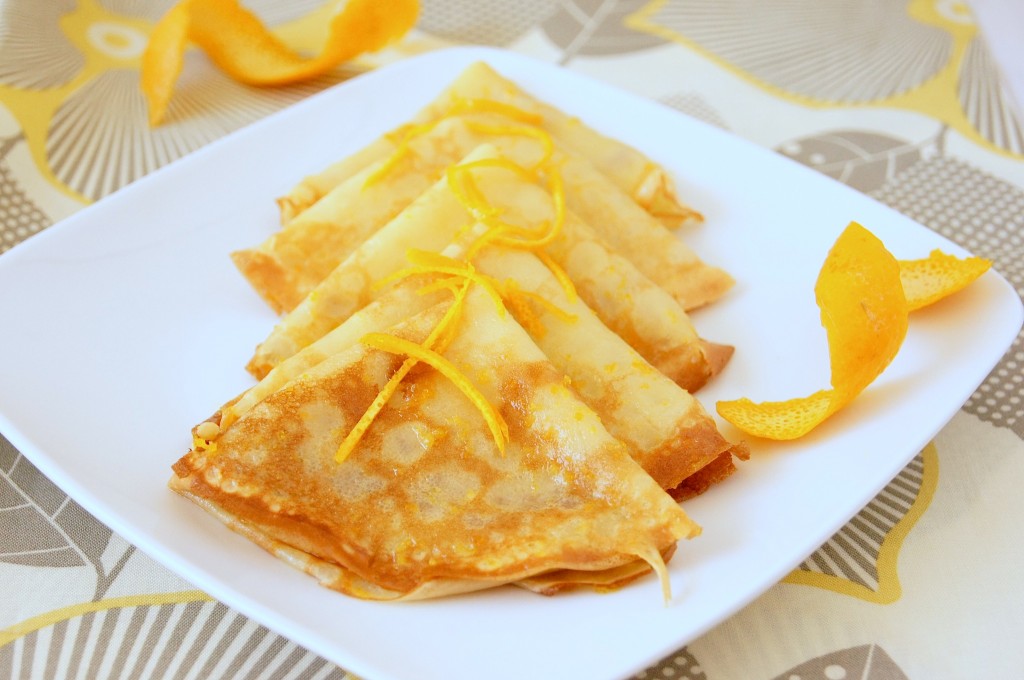 This recipe is a perfect one if you fancy complex and delicate French food.
This dish is fluffy, silky, light and smooth, also it is made using orange juice, water and rind.
INGREDIENTS
6 tablespoon flour
6 eggs
6 tablespoon milk
3 tablespoon heavy cream
Unsalted butter, as needed
For the sauce:
3 oranges
16 tablespoon unsalted butter, softened
10 Tbsp. sugar
7 tablespoon Cointreau
1 tsp orange juice
5 tablespoon cognac
For the crepes:
6 tablespoon flour
6 eggs
6 tablespoon milk
3 tablespoon heavy cream
Unsalted butter, as needed
3 oranges
16 tablespoon unsalted butter, softened
10 tablespoon sugar
7 tablespoon Cointreau
1 tablespoon orange flower water
5 tablespoon cognac
PROCEDURE FOR MAKING CREPE SUZETTE
Firstly you whisk the egg and flour together in a bowl, add cream and milk, whisk again. Now, pour into a bowl and refrigerate for 2 hours.
To remove rind from the oranges, use a vegetable peeler and set. Press out the oranges and set aside.
In a bowl, beat the butter and half cup of sugar for 2 minutes, add the rind and beat for a minute. Add 2 tablespoon of the juice, kirsch, orange flavour, beat properly for 2 minutes.
Add 2 tablespoon of the Cointreau, kirsch and orange flower water and leave for 2 minutes.
Heat a pan and add little butter then pour ¼ cup batter. Place the batter on a coat pan and cook for 1 minute. Then turn with a spatula for 30 minutes.
Get more stuff like this
Subscribe to our mailing list and get interesting stuff and updates to your email inbox.
Thank you for subscribing.
Something went wrong.