CRISPY BASIL SALAD WITH PORK AND PICKLED CARROTS
This dish is packed with a zingy flavor and it's a fusion of Thai and Chinese food.
To enjoy it more, refrigerate the leftovers and you won't stop wanting to eat more.
INGREDIENTS
500 ml groundnut oil
300 g higher-welfare minced pork
1 pinch of ground white pepper
3 spring onions
1 tbsp red Thai paste
300 ml organic chicken stock
1 small cube of bread , to test the oil
1 bunch of holy basil
1 head of gem lettuce , or iceberg lettuce
For the pickled carrots
200 ml rice vinegar
100 g sugar
1 tbsp fennel seeds
1 star anise
2 medium carrots
PROCEDURE FOR MAKING CRISPY BASIL SALAD WITH PORK AND PICKLED CARROTS
To make the preserved carrots, add the rice vinegar to a pan over a medium heat with the sugar, fennel seeds, star anise, and one teaspoon of ocean salt. Simmer and stir till the sugar is dissolved. Finely slice the carrots using a chordophone. Remove the pan from the heat, add the carrots and stir to coat. Leave to chill utterly, then allow for a minimum of ½ hour.
Heat one tablespoon of the vegetable oil in a pan till it's hot. Add the minced pork, season with the white pepper and a pinch of salt, then toss till golden and setting out to crisp.
Finely slice the spring onions. Add two of the sliced spring onions to the pan with the red thai paste and cook for one minute. Pour the stock, and switch down the heat, stir for an extra twenty minutes, or till the stock has cooked and the pork is tender, deep-fried and setting out to crisp up once more.
In a separate pan, heat the remaining of the vegetable oil. Add the bread; if it brown in ten seconds, your oil is hot enough to start out sautéing. Add the basil leaves, discarding the stalks. In batches, fry the basil leaves for three seconds, till they're clear and crisp (careful of the recent oil, because it might spit). Remove the tender leaves with a slotted spoon and leave aside to dry on paper.
To serve, strain and place the lettuce leaves on a serving plate, scatter over the pork, preserved carrots, onion and therefore the tender basil leaves. Drizzle with the carrots' pickling liquid and serve hot.

ASIAN CRISPY BEEF
This dish is not only nutritious, it's also quick to make.
I would recommend this crispy beef recipe for a midweek dinner.
INGREDIENTS
1 tbsp unsalted peanuts
2 cloves of garlic
5cm piece of ginger
sesame oil
2 star anise
200 g lean minced beef
1 tbsp runny honey
1 tbsp fish sauce
1 tbsp low-salt soy sauce
2 limes
150 g brown rice noodles
2 spring onions
1 fresh red chilli
200 g fresh mixed salad veg , such as round lettuce, carrot, radishes, cress, spinach
4 sprigs of fresh coriander
PROCEDURE FOR MAKING ASIAN CRISPY BEEF
Firstly, lightly toast the peanuts in a dry cooking pan, then crush with a pestle and mortar then leave aside. Peel and finely chop the garlic and ginger.
Add one tablespoon of vegetable oil into the cooking pan on a medium-high heat. Add the mince, breaking it apart with a wood spoon, followed by ½ garlic and ginger and also the honey. Stir-fry for five minutes to crisp up and acquire golden brown.
Meanwhile, crush the remaining garlic and ginger into a paste with the pestle and mortar, then muddle with the fish and soy sauces and juice to form a dressing.
Cook the noodles in accordance with the packet directions.
Trim the spring onions, then finely slice with the chili pepper (deseed if you like). Prepare the dish veg, breaking the lettuce leaves apart and slicing any fresh veg.
Full your plates with pretty dish veg, then drain and add the noodles. With a sprinkle over the tender beef, chilli, spring onions and crushed peanuts, select the coriander leaves and tuck away.
GREEN TEA ROASTED SALMON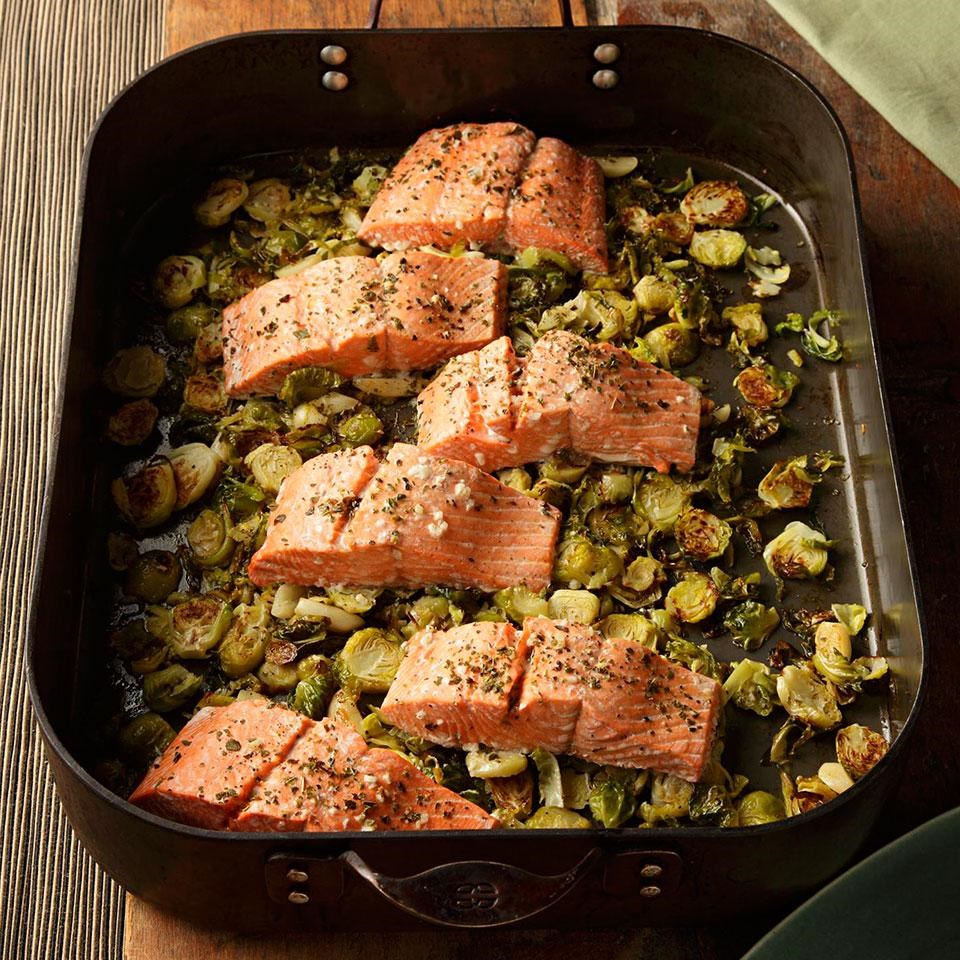 Green tea roasted salmon uses juicy mango that contains vitamin c and this is important to help keep your immune system in order.
INGREDIENTS
150 g brown rice
1 x 500 g salmon tail, skin on, scaled, bone in, from sustainable sources
1 green tea bag
sesame oil
1 clove of garlic
320 g mixed salad veg, such as carrots, cucumber, tomato, chicory
1 small ripe mango
1 lime
low-salt soy sauce
1 fresh red chilli
1 x 3cm piece of ginger
1 tbsp sesame seeds
½ a punnet of cress
PROCEDURE FOR MAKING GREEN TEA ROASTED SALMON
First step, Preheat the kitchen oven to 180°C/350°F/for gas. Cook the rice consistent with the packet directions, then drain. Meanwhile, slice the salmon skin 1cm deep at 2cm intervals and place in a baking dish (use one 300g fillet, if you prefer). Season it with ocean salt and black pepper and teabag contents, then rub everywhere with one teaspoon of oil, putting it well into the cuts. Peel and finely slice the garlic, then poke a move every cut. Bake for twenty five minutes, or till medium through (15 minutes if employing a fillet).
Prepare all of your dish veg, chopping everything into bite-sized chunks or slices that may be a pleasure to eat. Slice the cheeks off the mango, then peel, slice the flesh and place it into a pleasant bowl with all the veg. Squeeze all the juice out of the mango centre into a separate bowl, then squeeze in the lime juice and season soy sauce. Deseed, finely chop and add the chili to form a dressing, then toss with the veg and mango.
Peel and place the ginger into a frying pan on a medium heat with one teaspoon of oil and add the sesame seeds. Fry for two minutes till beginning to crisp up, moving frequently, then stir the rice and season to the letter. Snip the cress over the dish, and serve with the salmon and rice.
THAI GREEN CHICKEN CURRY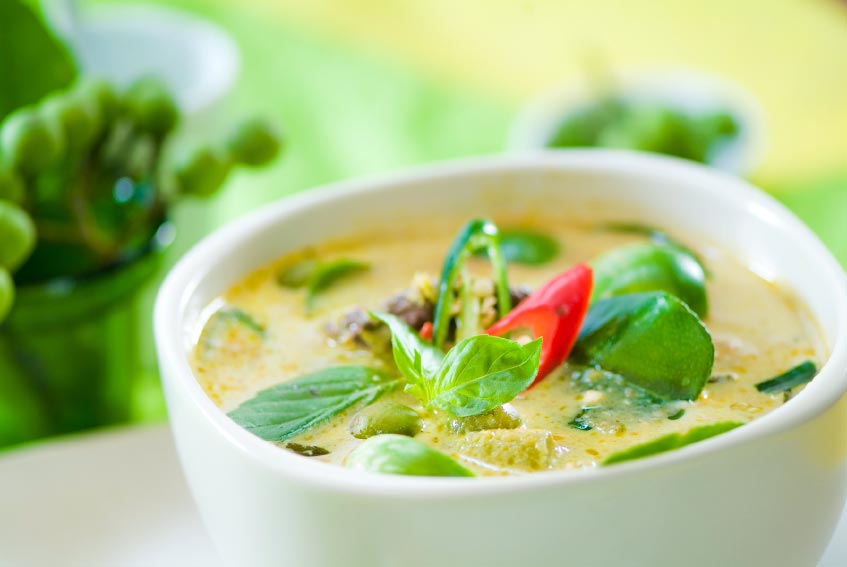 Thai green chicken curry is a delicious meal that has a flavor pinch you can't resist.
 INGREDIENTS
750 g skinless free-range chicken thighs
groundnut oil
400 g mixed oriental mushrooms
1 x 400g tin of light coconut milk
1 organic chicken stock cube
6 kaffir lime leaves
200 g mangetout
½ a bunch fresh Thai basil
2 limes
CURRY PASTE
4 cloves of garlic
2 shallots
5cm piece of ginger
2 lemongrass stalks
4 green Bird\'s eye chillies
1 teaspoon ground cumin
½ a bunch of fresh coriander
2 tablespoons fish sauce
PROCEDURE FOR MAKING THAI GREEN CHICKEN CURRY
First of all, to make the curry paste, peel, roughly chop and place the garlic, shallots and ginger into a kitchen oven.
Trim the lemongrass, remove the robust outer leaves, then finely chop and increase the heat. Trim and add the chillies together with the coriander (stalks and all). Blitz till finely cut, add the fish sauce and blitz once more.
Now, slice the chicken into 2 ½ strips. Heat one tablespoon of oil in a giant pan on a medium heat, add the chicken and fry for 7 minutes, or till simply turning golden, then transfer to a plate.
Tear the mushrooms into two, place the pan on a medium heat, add the mushrooms and fry for 5 minutes, or till golden. Transfer to a plate employing a slotted spoon.
Reduce the heat to medium-low and add the Thai paste for 5 minutes, stirring often.
Pour in the coconut milk and 400ml of boiling water, crumble in the broth and add the lime leaves. Reduce the heat and then simmer for ten minutes, or till reduced slightly.
Stir the chicken and mushrooms, reduce the heat and cook for an additional 5 minutes, or till the chicken is baked through, adding the mangetout for the ultimate 2 minutes.
Season and style with ocean salt and freshly ground black pepper. Pick, roughly chop and stir the basil leaves and the remaining coriander leaves. Serve with lime wedges and steamed rice.
SIZZLING STEAK STIR-FRY
This beef stir fry recipe is a juicy steak, not only that, it is merged with crunchy greens, juicy steak and sticky soy.
INGREDIENTS
320 g tender stem broccoli
2 x 250 g lean flank steak
2 teaspoons coriander seeds
250 g medium free-range egg noodles
3 teaspoons sesame oil
1 red onion
2 cloves of garlic
6 cm piece of fresh ginger
olive oil
3 tbsp soy sauce
1 lime
1 fresh red chilli
PROCEDURE FOR MAKING SIZZLING STEAK STIR-FRY
First and foremost trim the broccoli, cut the larger broccoli stems in ½ lengthways, then place in a very heatproof bowl and pour in boiling water. Add a pinch of ocean salt and leave for 10 minutes, then drain and keep aside. Fill a pan halfway with water and allow to the boil.
Slice the steaks against the grain into finger-sized strips and season with sea salt and black pepper.
Pound the coriander seeds with a pestle and mortar, or smash with the bottom of a pan, until fine. Sprinkle over the meat.
Drop the noodles into the pan of boiling water and cook till simply tender. Drain, then toss two teaspoons of vegetable oil in the pan.
Peel and finely slice the onion and garlic, then peel and finely chop the ginger.
Heat a splash of oil in a cooking pan or massive pan over a high heat, then add the onions, garlic and ginger. Fry for a few of minutes, or till the onions have softened slightly.
Add the seasoned items of meat and stir-fry for one to 2minutes, then add the broccoli and fry for an additional 2minutes, stirring perpetually.
Pour the soy and one teaspoon of vegetable oil, shake the pan till everything is well coated, then serve with the egg noodles.
Cut the lime into wedges and finely slice the chilli, then sprinkle over the meal.
Research Materials Used For This Article and Further Reading:
http://www.jamieoliver.com/recipes/rice-recipes/ashley-s-sticky-rice-mango/
http://www.jamieoliver.com/recipes/category/world/asian/
http://www.jamieoliver.com/recipes/vegetables-recipes/super-food-noodle-salad/
http://www.jamieoliver.com/recipes/beef-recipes/sizzling-steak-stir-fry/
Get more stuff like this
Subscribe to our mailing list and get interesting stuff and updates to your email inbox.
Thank you for subscribing.
Something went wrong.